Industry News & Application
Applications for motion control systems in challenging environments dictate that the systems are engineered to meet specific characteristics to perform and to avoid impacting user processes. Compatibility for operation in vacuum, ultrahigh vacuum and cleanroom of Nanomotion's motion system is accounted for in the design engineering process and validated through operational and lifetime testing. This process takes into account:
Inherent Material Properties & Selection
a. Metallic structural parts
b. Ceramics
c. Plastic materials
Cleaning & vacuum baking
Particle emissions & validation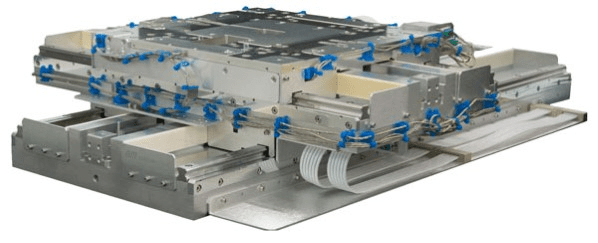 Product Focus
Inherent Material Properties & Selection:
Nanomotion's ultrasonic motors are designed to contain no moving parts, and thus no lubricants of any kind. Motors are made from solid materials including metals, ceramics, plastics and cured epoxy adhesives, with the majority of the weight being metal and ceramic. All materials used by Nanomotion comply with ASTM E595 for TML <1% and CVCM<0.1%.
Metallic structures: Motor bodies and structural parts are predominately aluminum and stainless steel, with essentially zero outgassing.
Ceramics: Piezoelectric elements and drive strips are made from extremely low outgassing ceramics that are sintered above 1000ºC, leaving no organic residues.
Plasitics: Representing less than 3% of the total motor weight, only engineered plastics such as Peek and PPS are used, with extremely low outgassing.
Cleaning & Vacuum Baking:
Nanomotion utilizes dedicated cleaning procedures for all vacuum, UHV and cleanroom assemblies. The assembly and testing of motion systems is done internally, in our ISO 3 Cleanroom. Motors and stages parts are compatible with baking at up to 150ºC for 48 hours.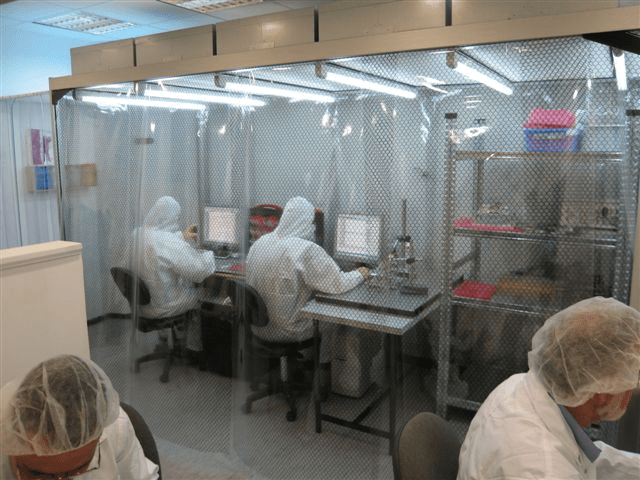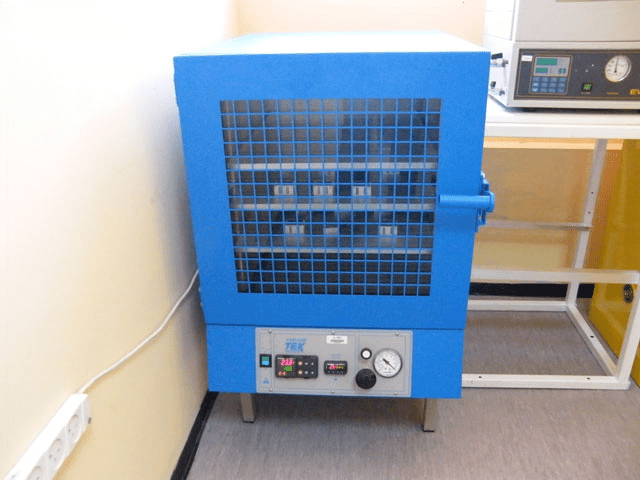 Particle emissions & Testing:
Nanomotion's direct drive motor technology is optimized to minimize particle emissions. A typical drive element may produce one particle that is 0.1µm over a distance of 200mm. Operation of Nanomotion's motors in an ISO 3 cleanroom would contribute to less than 1% of the allowable particles.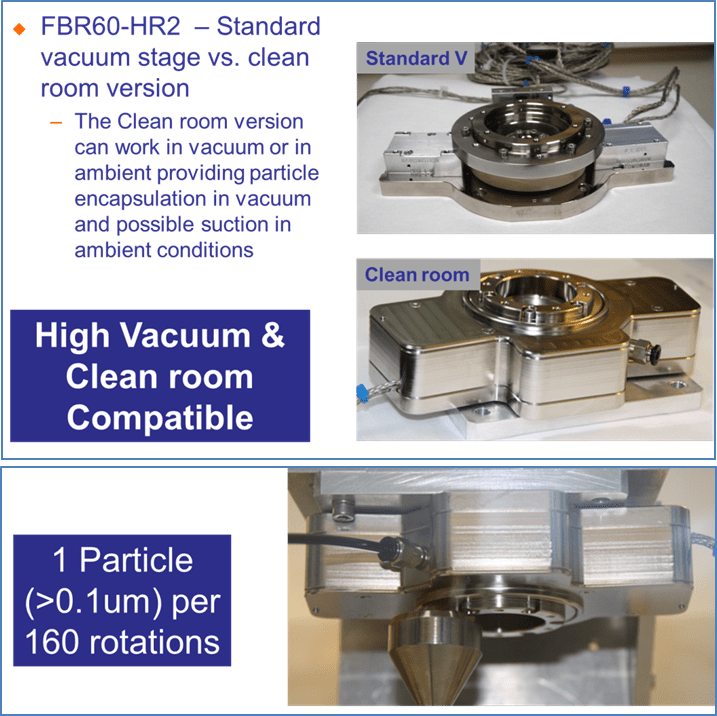 Nanomotion FBR-60 Rotary stage equipped with two HR2 vacuum motors in a vacuum and a clean room versions. The clean room version is equipped with a particle enclosure with air suction leading to a particle count of less than 1 particle per 160 rotations.
See video of UHV rated wafer stage
About
Utilizing proprietary technology, Nanomotion designs and manufactures complete motion solutions from start to finish.
Motion Solutions By Industry